Cooking Classes in Ubud, Bali
When you stay at the Mara River Safari Lodge there are a lot of cool activities to do in the surrounding area, including joining different cooking classes in Ubud. The traditional Balinese cuisine is famous for its use of banana leaves and spices.

There are several options to attend a cooking class and learn all about traditional Balinese food. Most half-day courses include a free pick-up from the Ubud area and a trip to the local farms and/or markets, before you're guided through an interactive experience on how to prepare Balinese classic dishes.
We made a list of the best cooking classes in Ubud, Bali!
The Best Cooking Classes in Ubud, Bali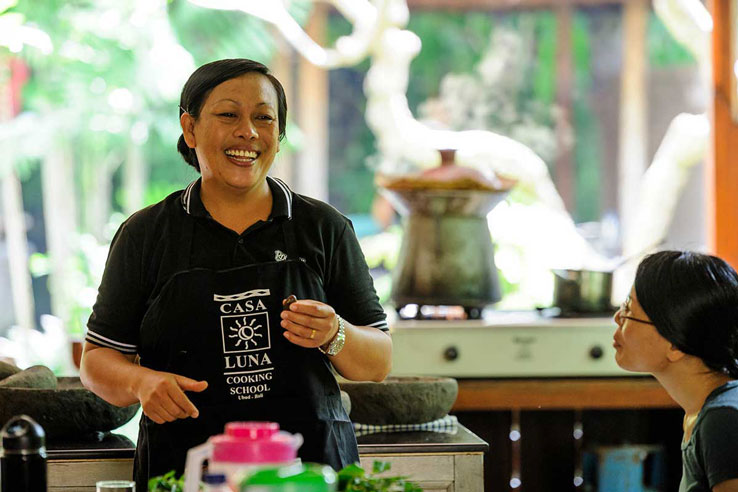 Casa Luna Cooking School
The Australian hailed "Casa Luna Cooking School" is one of the world's best cooking schools. They are known to provide insight into the rich culinary dishes of Bali through studying its cooking methods, cooking styles and even the culinary myths behind them.
Classes are offered every day of the week, with each one having different topics. You learn to prepare delectable Balinese dishes such as chicken satay, gado-gado and many more. The prices start from Rp. 400.000.
Honeymoon Guesthouses, Jalan Bisma, Kec. Gianyar, Indonesia | Tel: +62 361 973282
Jambangan Bali Cooking Class
Jambangan Bali cooking school can be described as an intimate home-style cooking course. The courses involve having you go to the market and pick out the different spices and ingredients.
In that sense, this cooking class teaches you how to cook starting from the basic ingredients before actually proceeding to cook the food. Indonesian natives teach you useful culinary techniques to prepare eight different dishes. Prices start from RP350.000.
Jalan Kelabang Moding, Ubud, Kec. Gianyar, Bali, Indonesia | Tel: +62 813-3834-4388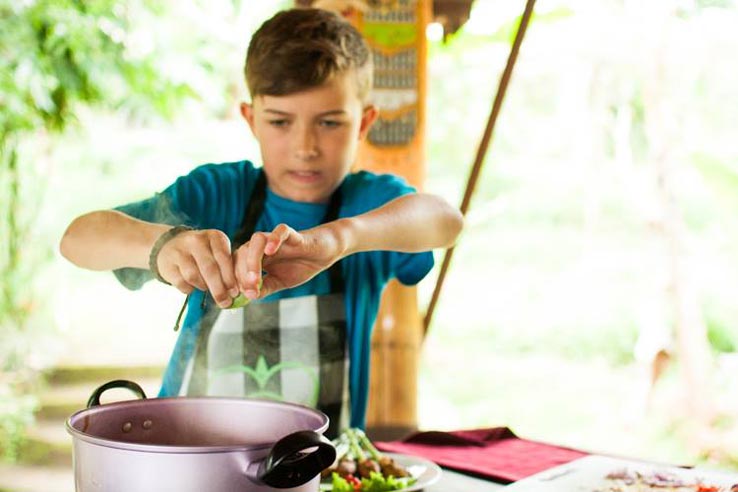 Balinese Farm Cooking School
This cooking class is unique in that they have their own growth farm where you will be taught how to choose the right ingredients, when they are properly grown to be used for cook and also visit the local market to pick out any additional ingredients.
This interactive approach to the cooking course makes for a more immersive experience. After getting all the ingredients, then you are taught by the local native Balinese the different cooking methods, how to use the ingredients for multiple purposes, and many more. Prices start from US$35.
Banjar Patas, Taro, Ubud 80561 | Tel: +62 812-3953-4446
Lobong Culinary Experience Bali
The Lobong culinary experience is one of the cooking classes in Ubud that provides an educational and authentic cooking experience. The class is conducted by the family host and involves having you shop for the raw ingredients in the local market.  
They will also show you the different approaches to cooking methods and the simple recipes for you to follow along. Prices start from RP375.000 and there is a prevailing 10% service charge.
Jalan Raya, Kedewatan, Ubud, Kabupaten Gianyar, Bali, Indonesia | Tel: +62 812-3651-778
Please inform the staff at Mara River Safari Lodge which cooking class fits you best, and they will arrange the day!