10 Bali Activities for Kids When You Stay at Mara River Safari Lodge
Planning a family getaway this weekend? Mara River Safari Lodge offers a fully immersive experience for families, with plenty of activities to keep kids and families occupied for days on end.
Treat your family to a getaway at one of the most unique accommodation experiences in Bali. Because our lodges are specially designed and crafted to enhance the safari-themed experience you will have at Bali Safari Hotel. So, here are 10 activities to do with your kids during your stay!
Kiboko infinity pool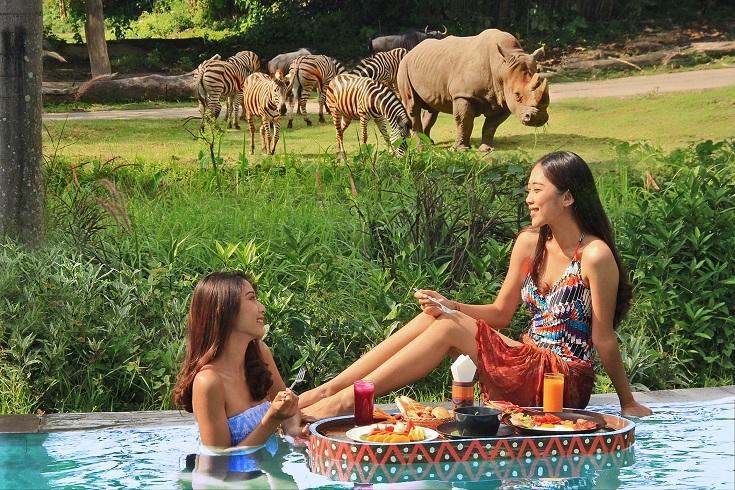 Swim, sunbathe and lounge in the Kiboko infinity pool with the African animals roaming around, exclusive for in-house guests!
Panoramic View of the Safari
Enjoy panoramic views of the safari along with its animal residents, such as Rhinos, Giraffes, Zebras and much more – all from the convenience of our lodges at Mara River.
Attend educational animal shows
Make sure you tune in to the animal shows at Bali Safari Park, including the Tiger Show, Elephant Show and the Animal educational show. All presentations on the schedules will showcase the intelligence and empathy of many exotic animals.
Cool off in the waterpark
The Waterpark is located in the Fun Zone section of Bali Safari Park. You can cool off from the heat by swimming in the waterpark that is filled with fun slides and water games!
Learn Balinese Culture and Dance
While you're here, why not learn a traditional Balinese dance. You can catch a free lesson at the Kampung Bali through Peken Bali Activity every 1 pm!
Meet and feed the Meerkats & Giraffes
Meet the gang of furry Meerkats at the Meerkat Encounters! Not only the Meerkat, there are also Shingo the giraffe waiting for you to get fed on!
Bali Agung Show
The Bali Agung Show is a state-of-the-art theatrical performance that showcases traditional Balinese culture, performed with modern lighting and sound systems.
Dine with Lions
Experience a dining experience with the almighty lion and experience like no other in Bali except at the Tsavo Lion Restaurant.
Embark on the Night Safari
Are you ready to experience the safari after dark? Ride on our specially designed tram and watch as the nocturnal creatures come alive!
Don't forget that your reservation at Mara River Safari comes with complimentary admission to Bali Safari Park. For a limited time, we are including tickets for the exclusive Bali Agung Show as well! All you have to do is book your reservation directly from our website!
So, we look forward to seeing you at Bali Safari Hotel – Mara River Safari Lodge!