Mara River Lodge, Symphony of Wilderness in Luxurious Accommodation
Welcome to Mara River Safari Lodge, a place where the harmony between wilderness and luxury converges into a captivating symphony.
One of the must-visit places for wildlife enthusiasts is Mara River Safari Lodge at Bali Safari. Located in the heart of the Bali Safari and Marine Park, Mara River Lodge offers an unparalleled experience in combining the beauty of wildlife with luxurious accommodation.
Discovering the Beauty of Wildlife
Mara River is nestled in the midst of a stunning wildlife habitat, thereby allowing guests to connect directly with the beauty of nature. Moreover, surrounded by lush forests, visitors can feel the serenity and tranquility rarely found in other accommodations
The ambiance filled with bird chirps and the gentle breeze of Mara River makes the stay at Mara River truly exceptional. Guests can also enjoy the beautiful morning.  They can witness the sunrise casting golden rays through the trees.
Luxurious Accommodation Amidst the Wilderness
Mara River Safari Lodge offers luxurious accommodations that blend modern touches with natural elements. Additionally, each room is meticulously designed to provide maximum comfort to guests. Room amenities include comfortable beds, cozy sitting areas, and private balconies with spectacular views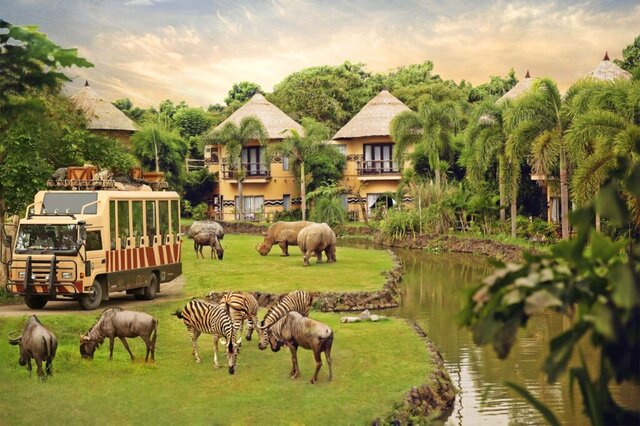 Visitors can choose from various types of accommodations, including spacious guest rooms or comfortable family suites. Each option provides a peaceful and pleasant atmosphere, ensuring an unparalleled stay experience.
Food and Cuisine that Tempt the Palate
Another part of the symphony at Mara River Lodge is the delightful culinary experience at Tsavo Lion Restaurant. This beautiful restaurant offers a variety of delicious dishes with a touch of Bali's local and international flavors. Guests can savor their meals while enjoying the breathtaking views of the surrounding nature. The guest can also catch a glimpse of the majestic lion king relaxing in its habitat.
Adventuring in the Safari Park
One of Mara River Lodge's main attractions is the exclusive access to the renowned Bali Safari. Furthermore, visitors can have a unique opportunity to explore the diverse wildlife from around the world in a safe and comfortable environment. From the cozy safari vehicles, guests can observe various animals, including tigers, elephants, lions, zebras, and many more.
Mara River Lodge is a remarkable place where the symphony of wilderness and luxurious accommodation harmoniously unite. Moreover, the guests will etch the experience of staying amidst the awe-inspiring wildlife habitat, enjoy comfortable luxurious lodging, and savor delectable cuisine in their memories forever. So, do not hesitate to plan a visit to Mara River Safari Lodge at Bali Safari and Marine Park for an unforgettable experience. Experience the symphony of wilderness in luxurious accommodation.