Bali Agung Show: Experience A Spectacular Cultural Performance
The live theatrical performance is not just a neat addition to your experience at Bali Safari Park. It also complements your entire experience in Bali as a whole.
Bali is indeed very unique due to the Hindu-Javanese cultural influence, so it is no surprise that you will hear a lot about the myths and legends that are deep-rooted into the locals' beliefs and everyday living.
Our presentation, the Bali Agung Show, is our way of saying thank you for choosing this island in particular as your host and holiday destination.
What you will expect
Bali Agung Show features more than 150 Balinese dancers and musicians. This does not include the hundreds of local artists, craftsmen, and construction workers who have contributed to your viewing pleasure.
As you may have noticed in your journey through the island, art is an important product of our culture, and a necessity to sustain our lifestyle and traditions. This is why anyone who can produce art – visual, music, dance, performance, carpentry, masonry – is appreciated and can make a good living out of their creations.
So, do not be surprised that the Bali Agung Show is presented to you with our fullest passion. We highlight our rich cultural heritage, especially the recounting of the legend of King Sri Jaya Pangus and Queen Kang Ching Wie.
What your children can learn from the show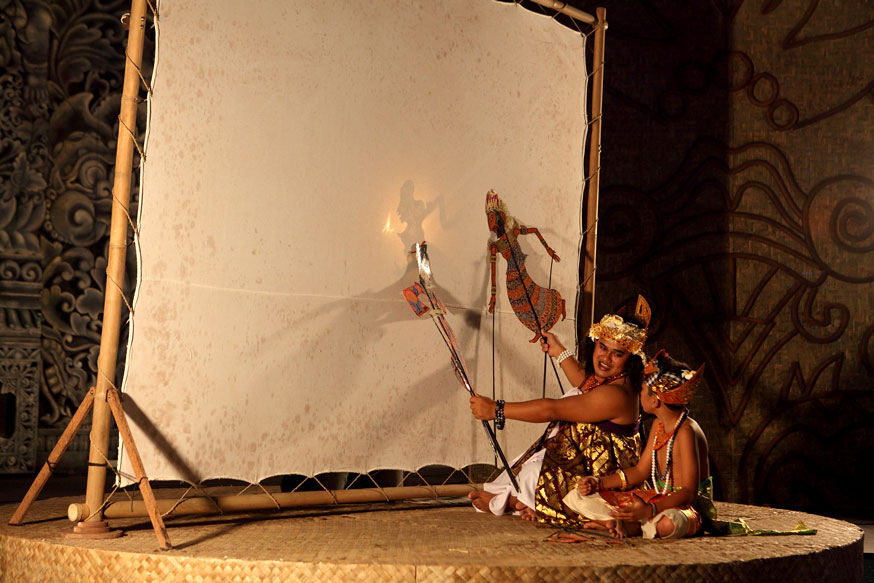 Although this legend is considered a tragedy and an epic, it is told to young generations at least once in their lifetime. This is because the legend has so many teachable opportunities for people of all ages.
The story revolves around a king who was devastated when he discovered that he could not have an heir with his wife. He then made a journey alone until he found himself stranded on an island.  The king was later seduced by the goddess of fertility, Dewi Danu until she bore the king's child. What follows are conflicts between the king, the queen, and the goddess, as each protects their own honor that resulted in huge battles.
From the Bali Agung Show, your children are presented with themes that can relate to them: disappointment, frustration, revenge, and love. Older children can find themes about infidelity, betrayal, and temptation.
Ancient legends can be relevant to today's societal issues
There are topics that can be difficult to initiate in a conversation, even between parents and their children. Developmental psychologists claim that live theater can help children, parents, and teachers to engage in a dialogue, and close the gap of understanding between what the adults and children perceive about the topic.
For example, it might be difficult to talk about divorce. The Bali Agung Show explores the king's infidelity, which might act as a proxy to begin an honest conversation about marriage, unmet expectations of each couple, and much more.
Don't miss the spectacular cultural performance that fuses traditional and modern theatrical techniques. The Bali Agung Show recounts the myth of hope and tragedy in a heroic legend of King Sri Jaya Pangus and Queen Kang Ching Wie. Visit our official page to learn more.