Elephant Mahout Experience Through Special Deals 3D2N!
Holiday Experience with The Elephant
Are you a wild adventure lover and wanna get elephant activities experience like never before while do a staycation? Book this awesome deals which full of beneficial inclusions only at Bali Safari Hotel, Mara River Safari Lodge!
At Mara Adventure, we make it getting close to nature easy and affordable. You can get this special deals 3D2N by booking on our website from 24 October – 05 November 2022 which will be valid for a staying period until 05 January 2023.
Daily Breakfast with Lion at Tsavo Lion Restaurant
Taste and enjoy your breakfast uniquely at Tsavo Lion Restaurant. Having it next to the lions, this dining experience will not be found anywhere else in Bali!
Elephant Mahout Experience
An experience of a lifetime, this tour is an excellent opportunity to learn about the world's largest mammal, the elephants. Come and meet these gentle giants as you groom and bathe them, accompanied by our keepers/mahouts.
In addition, visit our Safari Poo Paper Factory to learn how they make paper from elephant dung and Elephant Museum tour. There will also be free elephant feeding to make your adventure even more memorable!
Access to Bali Safari, Safari Journey, and All Animal Presentations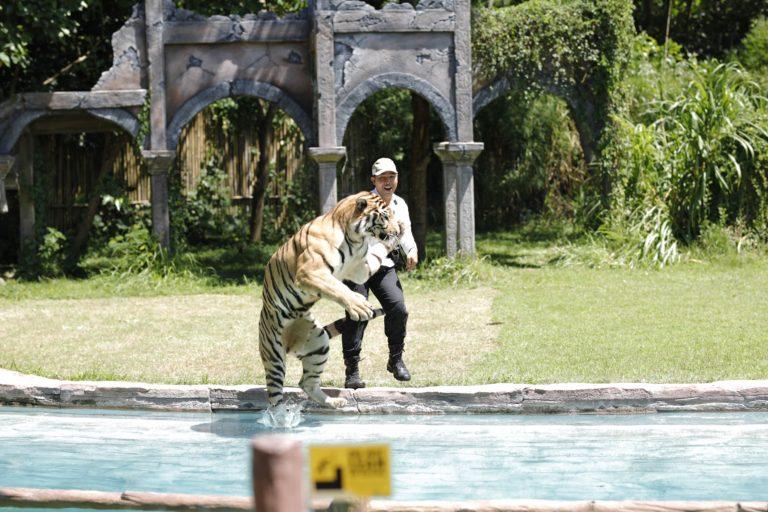 Enjoy unlimited access to our park, explore, and feel the adventurous days. There are three animal show performances that you can enjoy; Animal Show (10.30 & 16.00), Big Cat Show (11.15), and Elephant Show (11.45 & 16.30). On weekend, there is also the spectacular show of Bali Agung. Top up are available for you to watch this special show.
Free Cooking Class
Not only can experience the safari adventure, there still a bunch free inclusions you can do beside. The fun cooking class is another worth activity which is cant be missed out. It will make you feel at home while stay at lodge!
An Unforgettable Night Safari Journey
Many of the wildlife in Bali Safari Park are nocturnal, and you can experience them through Night Safari Journey provided. You'll be traveling in a vehicle through wildlife enclosures together with a guide. Enter the cage tram into the night safari scene, where you'll be exposed to the night air, sounds, and any wildlife you may encounter on the way.
Start your tremendous staying now at Mara River Safari Lodge. Get your room now on our website and don't miss this special deals 3D2N!