Do you know that Bali Safari has its own Hotel?
Do you know that Bali Safari has its own hotel? When it is almost dark, and you are in the parking lot just outside Bali Safari Park. It's time to go, but you don't want to leave so soon. You still imagine scenes of the wildlife world — magnificent lions standing tall in their pride, graceful orangutans swinging through trees without a care, and your first experience of feeding a curious gang of Meerkats.
You wonder if there are any hotels near Bali Safari Park. After all, you haven't explored everything — a second visit wouldn't hurt.
Mara River Safari Lodge The Only African-themed Resort in Bali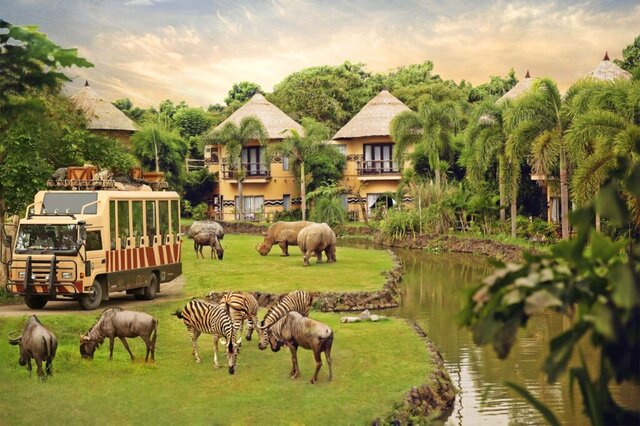 If you can't get enough of Bali Safari Park in just one day, the park's very own resort allows you to stay overnight within the park boundaries. In this lodge, we go with the theme of the African Savannah. It's not just the timber furnishings, authentic tribal decorations, and an overall earthy vibe that puts you in a constant mood to go on a safari adventure.
All lodges are complete with an open-air terrace that faces the savannah plains exhibit. At sundown, watch as a herd of wildebeest huddle and settle in for the night. In the morning, observe a herd of zebras graze on the lush grassland covered in dew. As you sit on a comfy chair, sipping on your morning tea or coffee, and getting your daily morning sunlight, you can plan your day ahead — will you visit the Ranthambore exhibit to see the white tiger, or the Elephant amphitheater and museum?
Most couples and families book a stay at Mara River Safari Lodge, and they get to enjoy all the benefits in one bundle. Once you book a lodge, Bali Safari Park becomes your very own backyard. Included with your stay is complimentary access to the park. You can go out and explore Gianyar, Ubud, and Karangasem, and come back to your lodge or Bali Safari Park at any time.
In the park, you can enjoy everything that your regular park ticket offers — a safari journey, the amphitheaters, lunch at Tsavo Lion Restaurant or Uma Restaurant, and dozens of wildlife encounters. Of course, being a guest at Mara River Safari Lodge, you also get to enjoy other benefits.
Don't know what to have for breakfast? Why not have breakfast with lions at Tsavo Lion Restaurant? This is no ordinary restaurant, as half of the restaurant is covered in glass, giving you a 180-degree view of the lion exhibit, head to the bathrooms and greet the female lions as they laze in the morning sun. These wild hunters love to play with each other and run around. While you may have a big appetite for the international cuisines that the restaurant offers, the lions will beat you at it. Watch them enjoy their meals at feeding time as you have yours!
You already had a Safari Journey, but if you still want to experience the night at Safari, staying with us is a must then! We offer Room & Breakfast where you can just stay the night and leave in the morning. Learn more about our Special Offer.