An Animal Lover's Dream – Balcony Feeding at Mara River Safari Lodge
If you are looking for an exclusive and unforgettable experience during your vacation. Mara River Safari Lodge in Bali is the perfect destination. The lodge provides a safe and natural environment for the animals, and guests can observe them up close from their balcony rooms.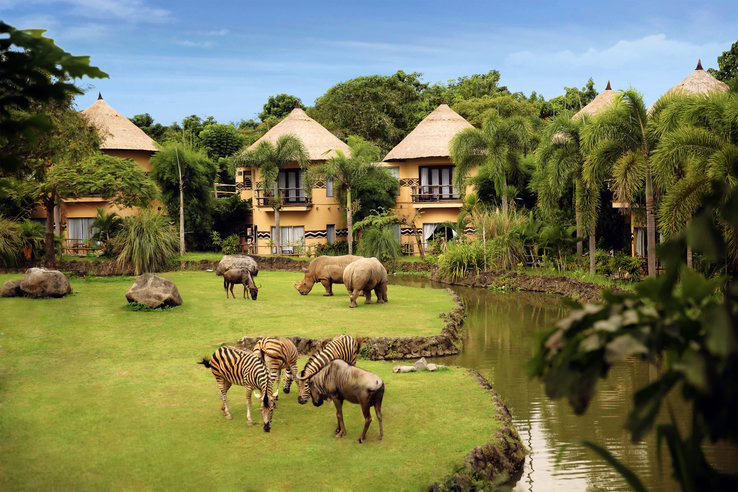 Exclusive and The Only One in Bali: Breakfast with Giraffe!
Looking for a unique and unforgettable breakfast experience in Bali? Look no further than the Mara River Safari Lodge's Breakfast with Giraffe, an exclusive and one-of-a-kind experience that you won't find anywhere else in Bali. Breakfast with Giraffe is an exclusive and unique experience that animal lovers and foodies alike will love.
Breakfast with Giraffe experience allows guests to enjoy a delicious breakfast while being surrounded by the lodge's resident giraffes. The giraffes will visit you at your table. Allowing you to get up close and personal with these majestic creatures as you enjoy your meal.
Zebra Feeding from Your Balcony
Imagine waking up to the sound of wildlife and walking out onto your balcony to be greeted by a majestic zebra waiting to be fed. That's exactly what you can expect with the Zebra Feeding experience at Mara River Safari Lodge in Bali.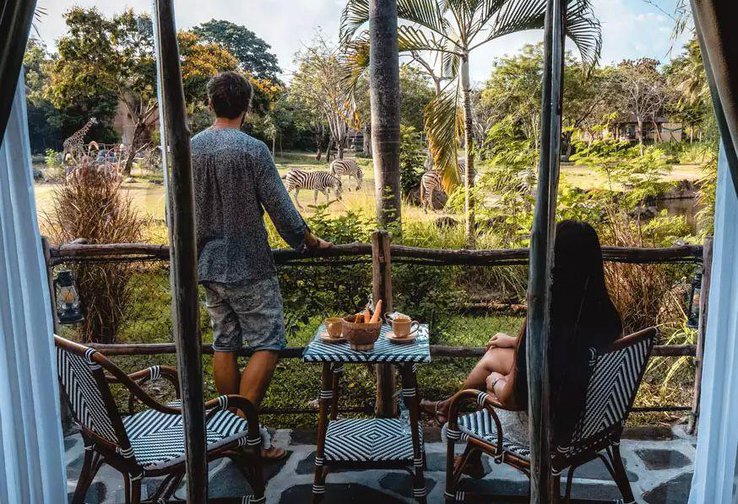 This exclusive and unforgettable encounter offers guests the chance to get up close and personal with one of nature's most iconic animals. From the comfort of your own balcony, you can watch as these beautiful creatures approach and eat their favorite snacks right from your hand. In addition to the feeding zebra from balcony. Guests can see giraffes, peacock, rhinos, and other animals roaming freely in their natural habitat.
How to Book?
Booking your stay at Mara River Safari Lodge is simple. Just visit our official website to browse the available accommodations. Select your preferred dates and room type, and add any extras such as exclusive animal encounters or other activities. Once you confirm your booking and pay the required deposit, you're ready to pack your bags and head to the lodge for an unforgettable vacation experience. Don't forget to bring your camera and sense of adventure!
Booking your stay at Mara River Safari Lodge is easy and straightforward. With exclusive animal encounters, luxurious accommodations, and a range of activities for all ages. It's the perfect destination for anyone looking to connect with nature and create unforgettable memories.