Exclusive and The Only One in Bali: Breakfast with Giraffe!
Published on October 20, 2022
|
Accommodation, Activities, Animal, Animals, Conservation, Hotel, Nature, Restaurant, Tips, Travel, Uncategorized, vacation
What are the benefits?
Mara River Safari Lodge always offers great opportunity for you to get closer to all animals. We always ensure attractive benefits that will make your experience with us more memorable.
For example, the inclusions in Room package provided to enjoy delicious breakfast with the almighty lions. The separate packages also available to enjoy breakfast without need to stay at the lodge, which is Breakfast With Lions. But how about more brilliant experience with the other wildlife?
After a long wait, we gladly introduce you more fresh additional package that will let you enjoying the breakfast with our giraffe. This private activity is the one and only exclusive experience you can find in Bali!
The Experience You Can Find Nowhere but in Bali Safari!
How can you skip a delightful breakfast outside and watch as the giraffe roaming in front of you? Moreover, in Bali you can only get this activity at Bali Safari!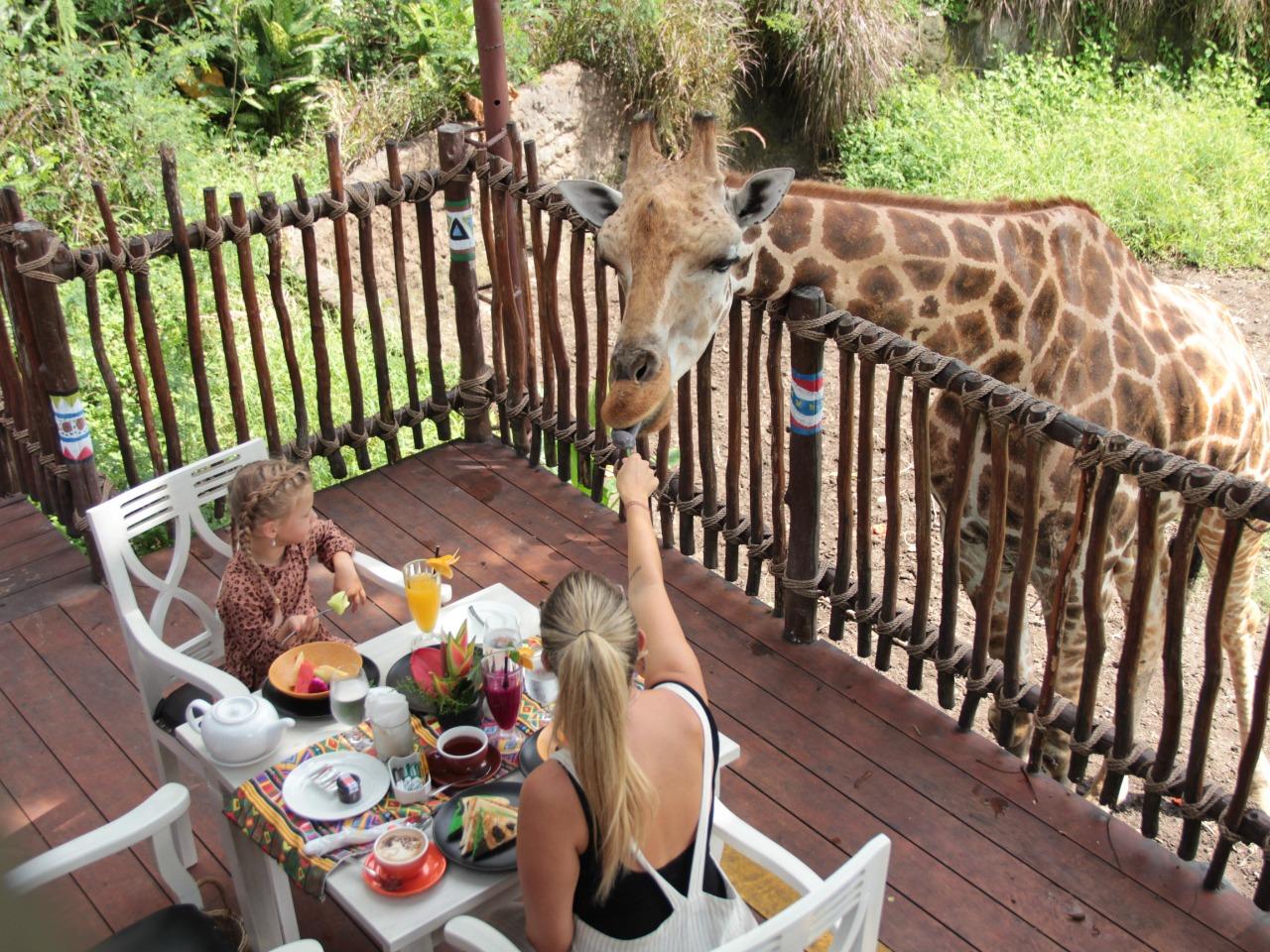 The best part is that your breakfast is well-served by our dedicated staff, all from your very own private table. Along with Shingo – the giraffe – will make this private breakfast more mesmerizing. Get a chance to feed this mammal, and don't forget to take a photo or two with him too!
How To Book?
Breakfast with Giraffe is the additional package that is available on the spot while you stay at Bali Safari Hotel. So, an easy way to book is by asking our receptionist staff or Tsavo Lion Restaurant staff.
This exclusive additional package will take place at Nkuchiro Restaurant – outside the Tsavo Lion Restaurant. After you book, our staff will tell you the time for breakfast, which is between 08.30 – 10.00 AM. Due to exclusivity and privacy, we only offer this package one set per day!
Premiere in Bali Safari, enjoy special discount price for couples and families! With only IDR 1,250,000 for couple, and IDR 1,750,000 for 2 adults and 2 kids. It is the perfect way to celebrate your love through a memorable experience!
So, what are you waiting for? Let's get the wildest safari experience with Mara River Safari Lodge!