Animal Feedings for Kids at Park

List of animals you can feed at Mara River Safari Lodge
Mara River Safari Lodge, a hotel at Bali Safari, has a bunch of activities for you and your kids while staying overnight in our lodge. One of those interesting activities is animal feeding for kids. These are some of the animals feeding worth trying by your kids in the park.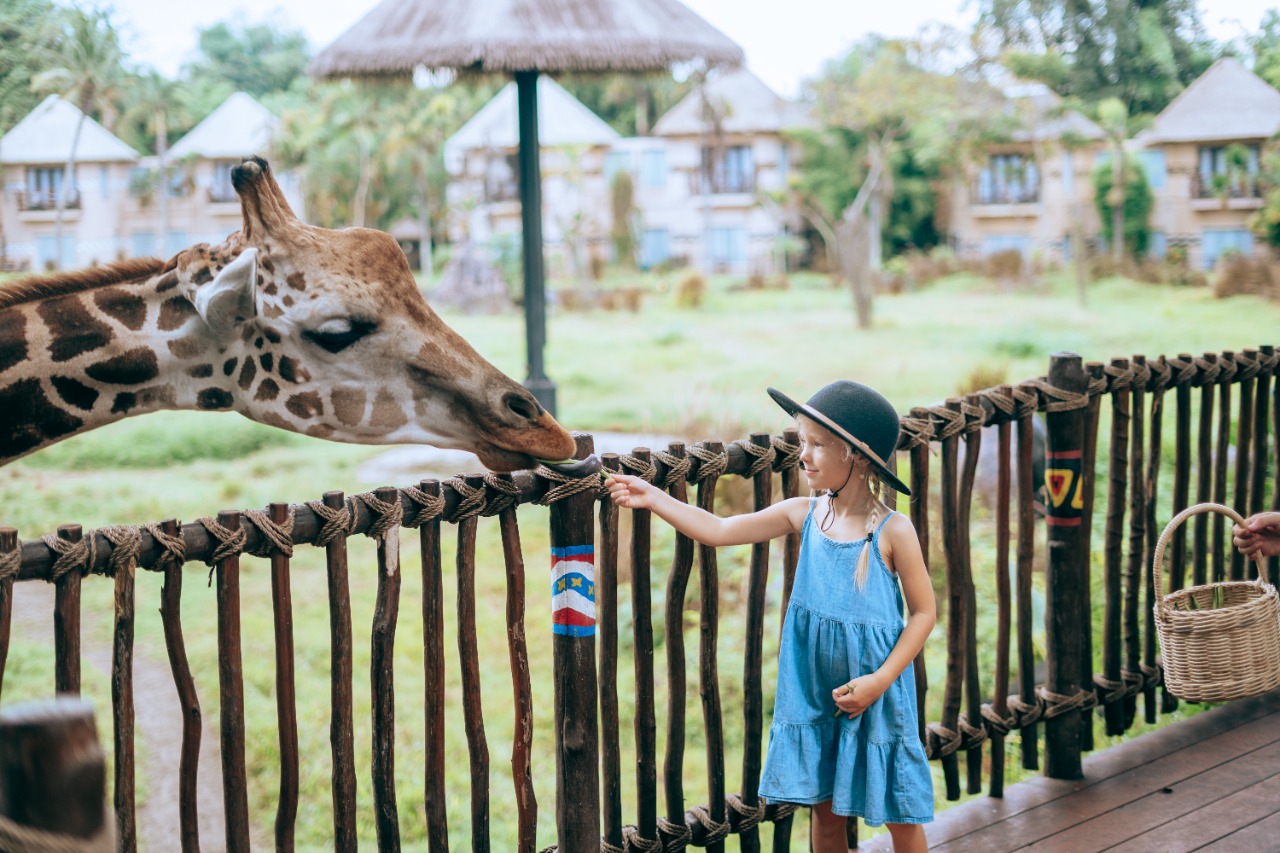 Take your lovely kids to our Nkuchiro, next to Tsavo Lion Restaurant, to meet this long-necked and tallest mammal in the world. With a maximum of 3 people per slot, give your kids some chances to directly offer some food to the giraffe's long tongue. This will instantly boost their happiness. Moreover, scientifically, this activity is good for their mental and brain.  With only IDR 175.000 (+ Free Mr. Ice), you will have a basket full of fruits and vegetables for the giraffe. Take your time with this incredible animal of the African panorama whilst seeing your room from a distance. This animal feeding is available from 11 AM to 3 PM.
Meerkat Feeding is located nearby the giraffe exhibit in the Nkuchiro area. Get the ticket at Tsavo Lion Restaurant just by purchasing IDR 100.000 (+ Free Mr. Ice) only. In this exhibit, there are only 5 people maximum is allowed to enter the Meerkats exhibit. Let your child interact with these cute little animals from the African deserts and feed them.  Meerkats would love the small insects and mix of fruits given to them.  Similar to the giraffe feeding, this meerkats feeding is available from 11 AM to 3 PM.
Elephant Feeding
Heading inside the park, you can take your kids to find the biggest mammal in Asia either at Kampung Gajah or Ganesha Court where the elephants will take a bath. Reach out here to give this mammal long grasses, carrots, apples, and other fruits. It is more than worth trying since you and your kids can feed them just by getting those fruits and grass for IDR 40.000 only.  You can do this feeding at Kampung Gajah from 10 AM to 4 PM, or from 1 – 2 PM at Ganesha Court.
Feeding at Petting Zoo
Petting Zoo offers you and your beloved kids various animals to be fed. Here, your kids can play and feed the guinea pigs, rabbits, goats, fishes, and even tortoises. Get the long beans and spinaches for IDR 25.000 only. There are actually many fishes that your kids can feed here. The animal feeding at the petting zoo is available from 10 in the morning until 4 in the afternoon.
Koi Fish Feeding
Take a little walk inside into the Bali Market area to find this Koi Feeding. Your kids would love this because they will feed the Koi uniquely by using a baby pacifier. Yeah, that's for real. The food for the fish will be blended with water and poured into a bottle with a baby pacifier in it. Imagine how happy your kids feeding this Koi and how cuter the fishes are.
Those are some animal feeding which will make your kids' holiday unforgettable. For more information about the animal feedings for kids' schedule, please click here.